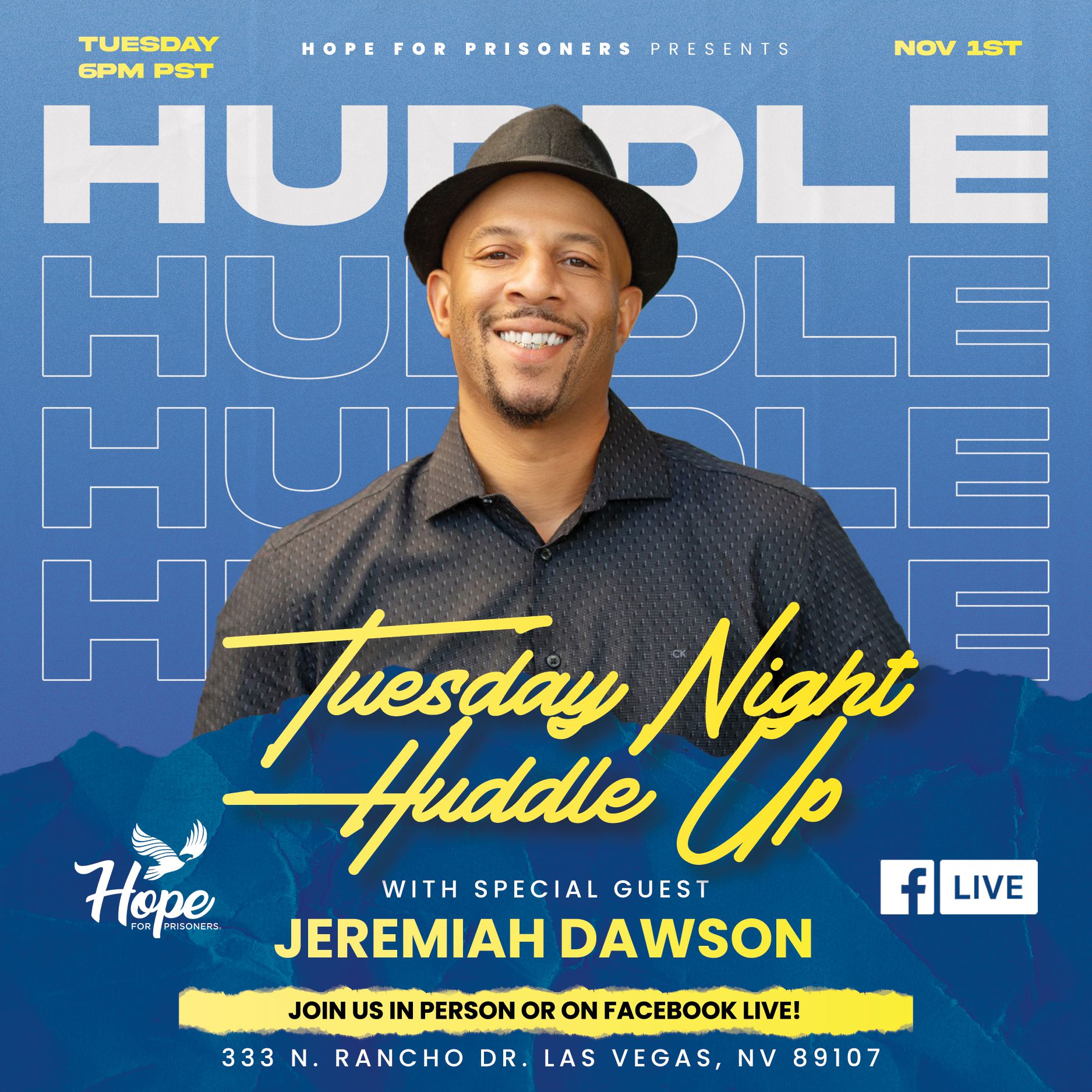 Expired

Huddle Up
November 1, 2022




6:00 pm - 7:30 pm

November 8, 2022




6:00 pm - 7:30 pm

November 15, 2022




6:00 pm - 7:30 pm
Please join us at HFP's Billy Walters Center for Second Chances, 333 N Rancho Dr, Las Vegas, NV  89106 for the HOPE for Prisoners Tuesday Night Huddle Up!
Come and GROW with us on Tuesday, November 1, 2022, from 6 pm-7:30pm PST during our weekly Huddle Up led by friend of HFP, Jeremiah Dawson.  You won't want to miss joining us on Tuesday evening as we gather in person but also will stream live into Nevada Department of Corrections and the City of Las Vegas Detention Center as we welcome Jeremiah "OG Big Red" to share his personal journey from struggle to success and making an impact in the lives of others.
Jeremiah Dawson is an Atlanta born native who grew up in an Adamsville neighborhood located on the west side of Atlanta.  Jeremiah began his journey in 2015 initially with his business partner Marlon Nash with The Uplift Atlanta Project, a Non-Profit Organization, where they fed and clothe the homeless.  As time progressed, he developed a vision to provide a safe and positive environment for inner city youth due to the increasing amount of violence in his childhood neighborhood. With that vision, came along Summer Safe Atlanta. As CEO/Founder of Summer Safe Atlanta, he immediately directed his focus and attention on the safety of the kids in the community while instilling morals, values, and building blocks needed for a successful future. Jeremiah had to endure some of life's toughest obstacles growing up. He had to deal with the pain of abandonment and substance abuse from his parents, loss of family and friends, and poverty stricken at an early age.
By the age of 21, he decided to pour his emotions and life experiences into music where he became CEO of King Being Records, an independent household name. He collaborated and toured with some of the music industries greatest musicians such as Kilo Ali , Ceelo Green, and Pastor Troy just to name a few. While music is his passion, giving back to his community is his calling. By establishing Summer Safe Atlanta, Jeremiah Dawson and his team will be able to inspire instead of expiring our next generation; By mentorship, seminars, workshops, recreational activities, health and nutrition, and lots of free giveaway for the kids and the community.  Jeremiah Dawson and his team are making an impactful effort to bring awareness and reduce violence especially during the summer months when our youth tend to be more idle or prone to violence at random. "Working together to keep our kids safe" is their motto.
I am looking forward to seeing you this week as we have the opportunity to learn from another fantastic speaker!!
Refreshments will be served from 5:30-6:00pm so come early and grab a seat.