"Do not conform to the patterns of this world, but be transformed by the renewing of your mind…"
Roman 12:2
Most people wouldn't describe 2020 as the best year of their life, but Graham Miller isn't most people.
"2020 was a yearlong Christmas to me, full of surprises," he explained. And Hope for Prisoners is the reason why.
When Graham joined the Hope for Prisoners program in 2019, he had no idea what the future had in store. All he had at the time was a rap sheet more than a mile long, a broken family and a little hope that maybe one day life would be better than it was right then.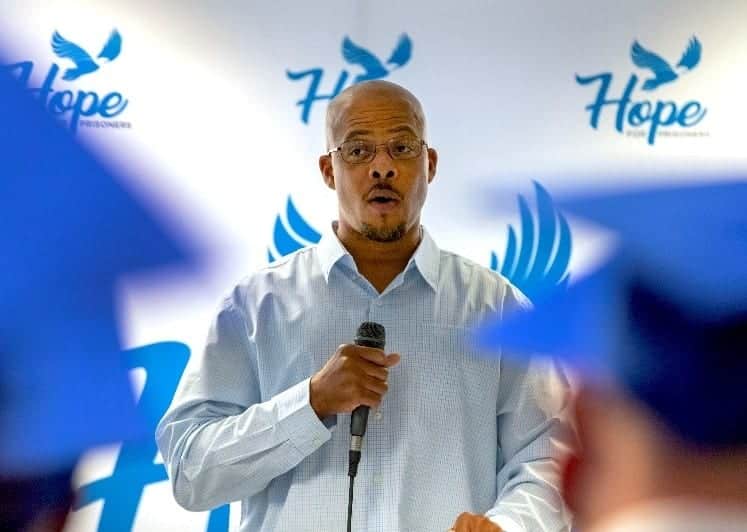 At his Hope for Prisoner's graduation, he wrote a vivid vision of what his life would look like a year later. He'd have a job, a home and his family. Within about 6 months of writing that, case worker Carolyn Willis, says every single word of his vivid vision came to pass.
"This is a story of redemption," Carolyn said. "It doesn't matter what you've done or where you've been; what matters is where you go and where you end up.
Sixteen felony conviction for everything from grand larceny to attempted murder landed Graham in and out of jail for most of his adult life.
"Back then I was a rough, tough, hardened criminal," Graham stated matter-of-factly. "A lot of people labeled me as crazy, that crazy guy. I just didn't care about anything. I felt the world owed me something and if I couldn't get what I wanted; I would take what I wanted."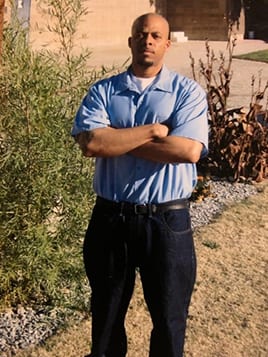 But during his last stint behind bars, something changed.
"August 1, 2012, I was arrested and within 3 or 4 days she came to see me and held up the pregnancy test," Graham recalled.
Graham found out he'd be a father with a woman, he says at the time, he wasn't too sure about. Despite that, he committed to be a good father to his daughter, even if she'd never see him face-to-face. For seven years, he called his daughter every day to make sure she always knew her daddy's voice. Then one day, fate stepped in and guided Graham to Hope.
"I had a friend in prison and one day I saw him on the cover of the newspaper in a suit for graduating from Hope," he said in shock. "This guy was a hardened gang member."
Graham said after seeing that he had no doubts about joining the program.
Since then, he's been reunited with his kids, he and their mother have restored their relationship with plans to marry, and he hasn't just kept his job at Stations Casino but has been promoted several times.
"This is the first Christmas where I have a home, a tree and stockings hung on the wall and my family is together under one roof," he said with pure joy.
Graham's story isn't a Christmas miracle but a picture of what redemption, restoration and reentry is all about.
"We have a lot of people who have lost faith in humanity, in people, but not the people at Hope for Prisoners," Graham explained. "I have never been judged for who I was. They saw something in me, and they see something in people, that people often don't see in themselves. They provide you with the tools to be successful."
Graham's life isn't marked by who he was, but who he is today, a loving father, a supportive significant other and a man with a dream for an even better future.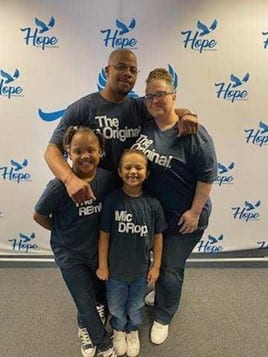 "Five years from now, I am going to be a homeowner. I will be a role model to my children. I will be a business owner. I will have a college degree or two. I will have it with the help of Hope for Prisoners," Graham proclaimed. He also wants to work for Hope for Prisoners as a mentor to other men getting out of the system, to show them what's possible!
Success stories like Graham's are only possible, in part though, because of you. With your help, Hope for Prisoners will have many more success stories to share for years and years to come.  Your financial support makes these miraculous stories of redemption and restoration possible.  Because of your financial support Hope for Prisoners is reimagining reentry coast-to-coast and changing lives and families forever.
Please consider donating today for men and women just like Graham, who need a second chance. Every single dollar goes toward bringing this program to more prisoners and in turn changing lives, changing families and changing communities.
Reentry programs like ours are how we will reshape criminal justice reform. The answer isn't with the politicians but with people and programs. By partnering with us, you are making a difference, you are Hope!