At Florence McClure Women's Correctional Center on Wednesday, a former soldier-turned-prisoner described loving to paint murals, writing poetry and music and becoming a leader and role model for other inmates.
Her speech about the desire to change the narrative about her life brought Gov. Steve Sisolak to tears in front of a stunned crowd. Thirty female inmates at the ceremony received their own College of Southern Nevada flags, certificates of completion, and a moment of hope for a better future after finishing a nine-month program that — since 2017 — has offered inmates the opportunity for advanced education and job training that can improve their job prospects when they leave prison.
"I attend so many things and see so many events but when I was told about this, it went straight to the top of my desk," Sisolak said to the inmates. "You each answered the call. You showed yourselves it can be done. You should be proud to want to improve your life."
The educational program is part of a broadening effort in Nevada to help inmates reintegrate in the workforce instead of reoffending. A day before the ceremony, the Las Vegas Metro Chamber announced a partnership with HOPE for Prisoners to connect graduates of the program with services to create a smoother transition from prison to training to employment.
HOPE for Prisoners is a 501(c)(3) non-profit program that offers long-term support that helps those formerly incarcerated readjust back into community life. Services include job training, financial and life-skills training, mentorship and counseling.
Through HOPE for Prisoners, both High Desert State Prison and Florence McClure Women's Correctional Center offer course work through the College of Southern Nevada. By the end of the program, inmates have six credits worth of CSN classes to apply toward a degree after their  release.
One of the male inmates in a similar ceremony on Wednesday at High Desert State Prison hopes to set a better example for his children and himself going forward. Steve Alvarado, 26, said he hopes to study design and architecture upon release.
"I'm at a loss for words," said Alvarado. "I feel like I have a chance to become a productive member of society. I have a son and a daughter, and I want them to be able to have food on the table and a place to live."
Successful re-entry for prisoners 
Nevada System of Higher Education Chancellor Thom Reilly spoke at the ceremony about how an education opens doors to people of all backgrounds to achieve success.
"The power of an education and a trade is so important," Reilly said during a speech to the inmates. "When you get out of here, you will have the critical thinking, training and knowledge to succeed and make good use of a second chance."
Prisoners who participate in the program can obtain six college credits from CSN as well as certifications in welding, culinary, auto repairs and public speaking.
CSN President Federico Zaragoza was in attendance for both the men's and women's ceremonies on Wednesday. Zaragoza was thrilled to learn that the inmates taking these courses are dedicated to the work and take their chance at an education seriously.
According to the Nevada Department of Corrections, 58 percent of Nevada's inmates come to prison without a high school diploma or GED and 78 percent of inmates have minimal job training.
"You aren't just college-ready, you're college-proven," Zaragoza said.
Reilly's chief of staff, Mike Flores, lobbied on behalf of the program during the Legislature, urging lawmakers to include it in the budget again and expand it to Western Nevada College and Truckee Meadows Community College throughout Nevada by July 1. Flores said he felt that it helps to do the right thing for people who want to change their lives for the better.
"My friend was in a gang, caught up in a lot of violence and bad decisions," Flores said. "I wish this program was around for him then."
Cara Clarke, spokeswoman for Las Vegas Metro Chamber of Commerce, said that the real linchpin of successful re-entry for those who have been incarcerated is to find a good job that pays a livable wage. The partnership came together because HOPE for Prisoners CEO Jon Ponder reached out to Mary Beth Sewald, the president of the Las Vegas Metro Chamber of Commerce, to discuss how her organization — the largest business association in the state — could open up employment opportunities for those formerly incarcerated.
"Finding ways to break that cycle is important," she said.
According to Clarke, Nevada has about a 30 percent recidivism rate — meaning Nevada is a state that has a high likelihood of someone convicted to reoffend. HOPE for Prisoners is not only focused on job training, but on "owning yourself" and breaking down an individual's destructive behaviors.
"It opens the eyes of our businesses that this is another good pool of quality employees that they should consider as they work to fill positions in their companies," said Clarke, who pointed out that a growing economy and a low unemployment rate contributes to a major challenge her members face: finding qualified workers.
The chamber's goal is to organize a workshop in August where the chamber's members can learn more about the HOPE for Prisoners program and the skill sets these men and women bring to the workforce.
She says that businesspeople may be unsure about the risks of hiring a former inmate, so hearing from other businesses that have been successful can help other businesses that are new to the partnership have more confidence in the program.
She pointed to the story of John Brown, a former meth addict, who had trouble finding a job after being incarcerated. He now has been employed for three years with transportation company Keolis, and has a wife and family.
"A good job can really change somebody's life," Clarke said. "One of the greatest things businesses do is employ people and give them the opportunity to succeed economically and provide for their families, and have the means to fulfill their dreams."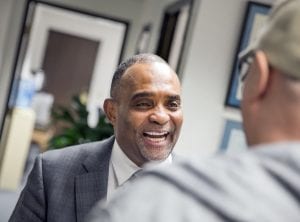 How it works 
Ponder said he thought of the program in a prison cell during a moment with God. He said he had been getting in trouble with the law since he was 12 years old where he went back and forth between different prisons in New York and the state of Nevada.
It has been 10 years since he's been out of prison and started the HOPE For Prisoners program. This last year, Ponder went to Washington, D.C. where President Trump brought him out to participate in a faith-based advisory council. He said that while they were out in the Rose Garden for the National Day of Prayer, President Trump basically told his story to the world.
"Ironically enough, it came almost nine years from the day I walked out of that federal prison," said Ponder. "If you ask me to describe it, I can't describe it. My head's still spinning."
His own experience being incarcerated multiple times helped him define the resources he hoped to see.
According to the Prison Policy Initiative, formerly incarcerated people are 27 percent more likely to be unemployed. Ponder also said there's a need of stable employment for prisoners.
He spent most of his sentence doing two things: analyzing what led to his incarceration and learning the mistakes he needed to fix, and then using those challenges he had to face to help other people.
He said a lot of it comes down to knowing what employers are looking for — and that employers are usually not willing to hire those who have been incarcerated.
"Employers are not willing to hire a project, so if we can help people with those soft skills and those vocational skills to help them be assets to their employers, and not liabilities, it increases the probability of them being a full-time employee."
This included involving law enforcement, including spirituality, incorporating financial help, and following through with stable, long-term job opportunities.
Ponder said the program also works closely with law enforcement.
"They were locking people away for 10,15, 20 years, but the problem was 20 years later, they were re-arresting the same people for the same things. Not only were they arresting them, but they were arresting the next generation of the family, fathers and sons stuck in this rut," said Ponder, who said they needed to think of something outside the box. The program currently has 85 volunteer police officers who offer mentoring and training service to men and women coming home.
"What could law enforcement do to assist the men and women that are coming home from prisons, getting out of the gangs and living life on a whole other level?" Ponder said that never before in history has law enforcement been so involved with people coming home from the prison system.
"It's changing the narrative," said Ponder who spoke on the disconnect between law enforcement and people from certain communities across the country. He said that the level of partnership helps on both sides of the equation, where they learn to build trust and respect with one another.
"There's several cases where the arresting officer is now a mentor of the individual they locked up seventeen years ago."
HOPE for Prisoners has pre- and post-release components that create a community for those who have been incarcerated and want to turn things around. Classes offered range from financial literacy to enhancing reading levels to taking classes at the College of Southern Nevada.
Prisoners are chosen from Nevada Department of Corrections and Clark County Detention Center. The program works with the institution to make sure the prisoners are in good standing and help find jobs they would be best suited for.
Once prisoners are released, the program works with men and women starting with a week-long workshop in which prisoners learn about the resources available to them and rebuild a new vision for themselves. After the workshop, case managers and mentors from the community work alongside former prisoners to navigate the re-immersion process.
Ponder emphasizes the importance of mentors, both for himself and others who have left the prison system.
"I could not have done this by myself. I had to surround myself with people that would get the results I wanted to get out of life, and shared the different ideas with them" said Ponder. "I am the visionary but I'm not necessarily the guy who put the legs on the vision."
Feedback from businesses 
Ponder believes that the program is making a big difference in the community, and he's not the only one.
Donnie Gibson, owner of general engineering contract company Civil Werx, got involved with Hope For Prisoners several months ago and has hired two recent graduates.
"Jon's got a great program that was really easy to get involved in," said Gibson.
When Gibson hired his second HOPE for Prisoners graduate, he said he took a risk, placing the man in an operation position.
"He has beyond exceeded our expectations," Gibson said.
Cecil Fielder, a director of safety training and security for Keolis, a public shuttle-bus system, has partnered with HOPE for Prisoners since 2014 and recruited several graduates who are now full-time employees in Las Vegas.
"Keolis is an advocate for second chance opportunities," said Fielder. "We not only want to convey that message in the community, but we also want to demonstrate through action."
One of those is 37-year-old Veronica Adwell, who started working at Keolis after finishing the HOPE for Prisoners program in June 2016 and was recently promoted from operator to road supervisor.
"I became affiliated with HOPE because I was on parole, I was just released from prison and IPO [institutional parole officer] told me I had to go there, that it wasn't even a choice," said Adwell who struggled with a drug and gambling addiction, "not caring about life," she said.
Her journey with HOPE for Prisoners started after she attended one of the Tuesday night mentorship huddles.
"I was hooked," she said. Adwell attended these huddles until she could attend the next week-long workshop.
She struggled to find and keep a job because of her criminal record. When she first reached out to Keolis for a job, Adwell was denied. But she later got the job through connections at HOPE.
"HOPE for Prisoners provided me with so many tools that allowed me to dig deep within myself to get back to the person that I used to be before I decided to choose a path that included a life of crime and drugs," said Adwell. "It was through those tools I was reminded of who I really am and who I truly can be."
After the ceremony, 36-year-old Ashley C. said that she now feels a sense of purpose and direction after exposure to HOPE and intends to enroll herself in college upon release. Being raised in a cycle of crime since childhood, Cline is hoping to break it for her and her daughter's sake. She hopes to major in psychology and her decision to do so inspired her daughter to pursue school as well.
"I have a teenage daughter and she told me that she wanted to attend CSN because of me," Cline said. "It made me so proud to realize that I can change my life for the better and those around me."